The Genealogy Depository

This site is a sort of supplement to the mail lists I maintain through Rootsweb.com on the surname Barringer, Black, Bradford, Coventry, Eller, Hackett, Hupp (including Hubb), and Kern (and many variations, including but not limited to Kerns, Kearns, Karn, Karns, Carn, Carns, Carnes) and links to books by and about these surnames. As you can see from the title of this site, this is a depository of all things genealogical. As such, anything submitted to me to add to the site will be added (as long as no copyright issues will be violated). Another database currently on this website include a slave depository (will with names of slaves, church rolls with slave members listed, etc.) which will be expanded in the summer of 2005 to include information I have come across in my own research on free blacks in North Carolina before 1860. At the bottom of this page is information on subscribing to any of my lists and also some tips and tricks to get better results to your queries. These tips and tricks apply to all lists and even message boards, so use them in good health!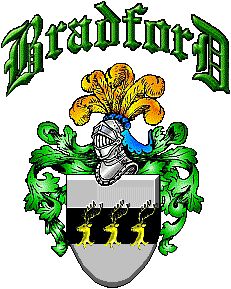 The above image is of a coat of arms for an Irish line of Bradfords
Announcements:
The chat room is now available!
The message boards are now up and ready! You can use them as a guest without registering or you can register and have more features available to you, including your own password-protected username and your own profile. (updated November 7, 2006)
Just a reminder that clickin on the ads on this site as well as purchasing books through the links will help me keep this site running. I will never charge you to access this site, but as a full time student, I continually have trouble making payments without assistance. Once I graduate (again!) hopefully things will change and I will no longer require assistance. For those who have helped by clicking the ads or sending me checks, THANK YOU! (updated November 7, 2006)
Want to go to a genealogy chat room, but don't have AOL? No problem anymore! You can now use genealogy chat rooms at http://www.genealogyforum.org. I no longer host there regularly while I'm finishing up school these next few years, but try to attend as much as possible. There are quite a few topics there as well as many general chats. This is a great opportunity for all genealogists to get together and talk about their lines in a hosted chat. The link above will take you to the main page, from there you can view the scheduled chats, instructions to help you get logged onto to the chat, as well as get into the chat room. (updated November 7, 2006)
I have a few articles that are available to read. The list of articles is available at the bottom of this page! (updated November 7, 2006).
What is currently on this site:
Below is a list of what I currently have on the website and what I am planning to put on this website. Please note that I am counting on your submissions to me to help build this page, most of this information comes from you!:
New or updated pages on the Genealogy Depository:
Info pertaining to the the following surnames
A slave depository of sorts. Ideally, I would like to have such records as wills, any kind of birth, marriage, death certificates if they are available, records of sales, family bibles with mention of slaves, emancipation and manumission records, and wills with mention of slaves.
What kind of information might you find for these surnames and slave depository?
Genealogies (of a particular line)
Vital Records (birth, marriage, and death)
Note that each section will differ. Some may have all this information, while others only have 1 or 2 different things.
The Library
Also, I'm slowly building a library of articles for this site. Have an article you want to submit? Want to write an article for the site? You're more than welcome to! Remember, whatever you submit as an article must be written by you, or you must have written permission from the author to post it on this site. For anything submitted, the copyright belongs to the author, not me (unless I wrote it!). Send me articles are topic suggestions by clicking this link. Below are articles currently on the Genealogy Depository:
---
How to subscribe to my RootsWeb lists:
Click on the linked addresses below, or email at a later time, and type in the body of the message the word: subscribe and nothing else. Leave the subject line blank if your server will let you, as I know with AOL it won't, If you have to enter something in the subject line, just put a period (.) since I know it works that way. For those of you unfamiliar with what the -D- is, it means digest. When you subscribe to the plain mode, you get each email that is sent to the list separately...If you are not worried about space on your e-mail server, I suggest that. The digest mode is really not needed for these lists as you'll only get about 2 posts each of these lists a day at the most, however; if you prefer the digest mode, it sends just one e-mail a day or every other day approximately and all the messages sent to the list are condensed into that one message. Please read the notes below on posting.
NOTE: If you use AOL or Juno, please subscribe to the plain text mode as there is a problem with the AOL and Juno servers in allowing the messages in digest format to get through. These lists don't have much traffic usually, so unless you already get +100 messages a day, it shouldn't be a problem.

NOTE: To subscribe to ANY RootsWeb list, do it the same way, only replace the surname of the list with the one in front above:)
How to Post to the List:
Q: I have just subscribed to the list, but do not know how word my messages I would like to post, can you help me??
A: Sure! Here are a few tips! (The important parts are in italics or underlined)
1. The best thing I can tell you on how to find connections on the list is to post your line, >don't just subscribe to genealogy lists and expect the info to fall in your lap (Although, rarely, it can happen). One thing with lists is that you need to actively seek the info you are looking for. One of my mottos is "If I don't do it, how do I know anyone else will" and you can apply this to the lists. If you don't post your message, how do you know anyone else with your line will? Chances are that there could be someone on the list with some info you are searching for, but they aren't posting it. You (or anyone for that matter) can miss out on a great opportunity to find your line farther back if you don't post. I know, for a lot of newbies to lists, they are intimidated to post to the list, so here are a few guidelines to help you (and everyone else out).
>Include as much information as possible

. Be as detailed as possible and not vague.

Vagueness usually discourages people

from bothering with trying to help.

Include in your posts full names (given and surnames), dates, and places

. With places, give town, county, and state.

If you don't have that information, say it!

(ex: "This is all the information I have so far") If you only know someone was born in OH, but not the town, say it.

If you don't know the exact dates, give an estimated range

like "he was b. between 1860-1870" it could even be a bigger range than that,

just give them something to work with

. Even if the range is from 1800-1899, they'll at least know what century to work with! :o)

Have a good subject line

. If you have an ancestor named, say William Coventry (one of my ancestors), this name is extremely common in the US, and in fact, in the 1800's, there were around 5 living in both PA and IL at around the same time, some even born on the same year!...talk about confusing!. Having a subject line of just "William Coventry" does not help. For me,

what I do is write my message first, then take the most important parts and put them in the subject line

. An example for William would be: "William Coventry b. 1865, Washington Co., PA". A lot of people on genealogy lists are on many lists and get many messages a day.

If they see a subject line they have no interest in, they just delete it (this is also what I do since I receive around 200 emails a day and I have VERY little free time to read them).

If you had the subject line just as "William Coventry", people are likely to just delete it because there are so many, they have no clue which William you're talking about and feel it's not that important.

With the better subject line, they know which William you are talking about and can tell better if it's their line or not

. An even better subject line is: William Coventry b. 1865 Washington Co. PA > Richland Co., IL. This shows that not only was he born in PA, but moved to IL, you could even put in when they died.

Long subject lines are not the greatest, but sometimes they are the most helpful. Try to keep your subject lines "short, but sweet" or rather short, sweet, and informative

.
2. When you make requests for lookups (like with the census info), give as much possible information as you can. Many people who offer lookups don't have a lot of time to actually do the lookups, so you can help them out quite a bit by giving as much info as you know. Also, it goes a long way to thank that person for looking, even if they don't find anything. Many people who do lookups do so out of the kindness of their hearts. As time goes by and they continue to do lookups, but never hear a "thank you" or "appreciate your help", they get discouraged. Help make their day a little brighter :o)
3. If YOU have any further ideas, send them to me and I will add them! :o)
---
Webmaster: Erin Bradford
Back to Topics: Home, Biographies, Books, Census, Immigration, Journals, Military, Slave data, Wills
Back to Surnames: Barringer Index, Black Index, Bradford Index, Coventry Index, Eller Index, Hackett Index, Hupp Index, Kern Index